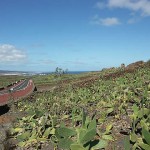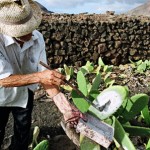 By the middle of last century the  » Opuntia ficus indica « , more common nowadays as the Prickly Pear, was introduced to the island of Lanzarote imported from Mexico and cultivated in large plantations around the village of Guatiza.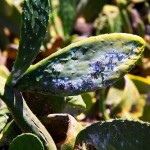 On it´s surface a tiny louse, the cochineal, was bred to gain a very precious red dye stuff known as Carmine from the larvae, that was and still is in strong demand by the cosmetics, pharmacy and food industries.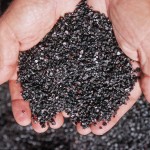 Using a spatula, the larvae have to be sraped by hand from the thorny cactus, then purged, deadened in hot water, dried and finally ground. The procedure didn´t change a lot since and with a look the tininess of the insects, the effort needed to produce quantities of the final product is unimaginable!