The dive site, the « Museo Atlántico » opened its doors in January 2016 on our wonderful island of Lanzarote. This 100% aquatic museum is unique in Europe.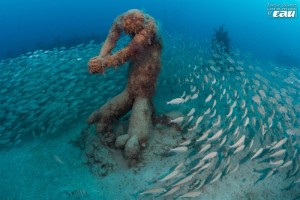 Jason de Caires Taylor's first scultures are 14 meters deep and are already colonized by local spiecies. We can count 250 sculptures today. This underwater Museum Lanzarote " Museo Atlántico" has been conceived as a place to promote education and preserve and protect the marine and natural environment as an integral part of the system of human values. Jason de Caires Tayor sends us a latent message in his work: the defence of the oceans. This museum project is creating a huge artificial reef made up of a series of pH neutral cement sculptures which, over time, will help the marine biomass flourish and facilitate the reproduction of species on the island.
Jason deCaires Taylor has created mysterious underwater worlds where art evolves as a consequence of the effects of nature. A connection betw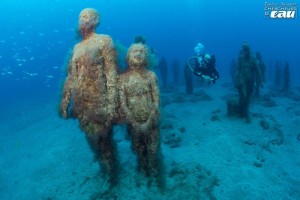 een humans and nature, present in the work of the artist, with a romantic and apocalyptic touch that questions our future.
Some of these realistic sculptures have beencast on island dwellers. His work evolves with time while posing a testimony of our time by characters with real size or objects resulting from everyday life. As for the attitude of the characters, they seem to be waiting, hoping to languish, looking at the infinite or wondering …
The museum is built in several parts. To this day, you can observe: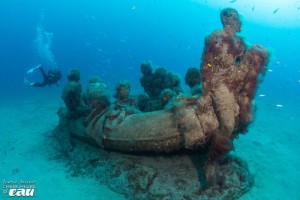 – The Rubicon which represents a group of 35 human figures who all have their faces in the same direction. The models used are residents of Lanzarote.
– The famous Raft of Lampedusa, a reference to the current refugee crisis.- A group of children in small brass boats, called Los Jolateros.
– Hybrid sculptures (half human, half cactus) representing the fusion of nature and humanity, existing in harmony.
– The sculpture of a couple taking a selfie and photographers refer to the use of new technologies in our modern society.
– Desregulado is a playground in which businessmen in costumes and foreigners in the modern world play on children's games.
– Inmortal, modeled after a fisherman on Graciosa Island, the sculture consists of a series of concrete masts that form a traditional funeral pyre.
– Like those of the couple « selfie » the photographers make you think about the permanent recording of images in the current societies.
– The entry. A young hybrid sets a large quadrangular mirror reflecting the changing surface of the ocean.
– The human circle, the last piece of the Museo Atlantico is a human tourbillon made up of 200 full-size cultures that make up a large circular formation.