Diving with Experience
The PADI Advanced Open Water course helps you to increase your confidence and build your scuba skills to become more comfortable in the water. This course will introduce you to new adventure dives and new ways to have fun scuba diving. During the PADI Advanced Open Water course you will complete your skills with 5 adventure dives to choose from 15 specialities among which Underwater Navigation and Deep water diving are compulsory. This certification will qualify you to dive to 30 meters.
If you are short on time, try out the PADI Adventure Diver course and choose 3 adventure dives.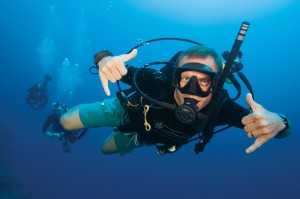 Pre-requisite : be a PADI Open Water Diver and be at least 12 years old and fill out our PADI Medical Questionnaire
Duration : 2 days for the PADI Aventure Diver and 3 days for the PADI Advanced Open Water Diver
What you learn : the knowledge and skills you get in the Advanced Open Water Diver course vary with your interest and the aventures you choose.
Supervision : PADI Professionnal Instructor
Price : 310€ for the PADI Advanced Open Water Diver
Aquasport tip ! Make it faster with PADI E-Learning course.
Curious to see what's deeper, why not get your Deep Diver Speciality to dive up to 40 meters !